SHIM Products
Technology to achieve quick and highly efficient cutting of 3D shims
We developed the technology to cut 3D shims that fills the gap between the panel (SKIN) and rib (RIB) generated during the assembly of the main wing in a short time as required.


SHIM・・・
SHIM is a product that inserts resin or metal SHIM into the gap to prevent the inevitable gap in OML molding (Outer Mold Line), and maintains the strength of the airframe.
With conventional technology, during machine trimming the drill tip passes through the work in the thickness direction to reach the inside of the support member. We addressed this issue by developing position control technology so that they drill tip does not reach the pallet surface. The customer provided a shim machining space with their assembly plant in which we installed a machining center. This contributed to work process improvements and the stabilization of quality and production.
Specific improvement measures included switching to NC, creating a system for gap data input, and adopting a machining automation program. We also adopted kits and made other minor improvements.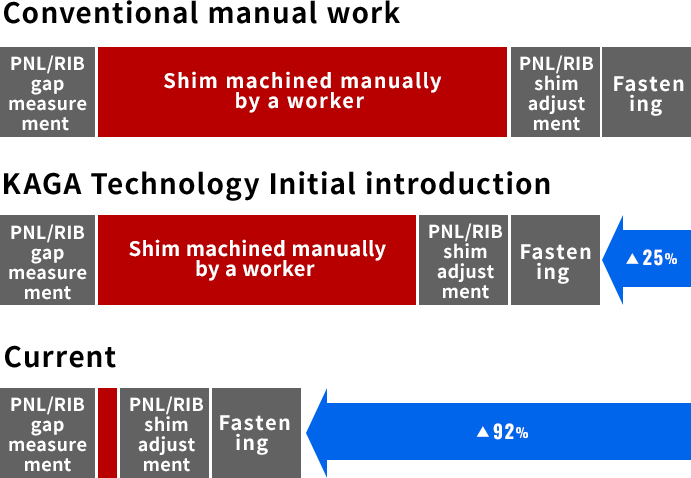 ※Because this is an assumed figure, it differs from actual figures.
※KAGA production capacity:2,600shims / ship → 31,200shims / month

Achieved shim machining to drastically reduce assembly flow times and improve quality.
SEALANT Products
Technology to remove voids from sealants for EME countermeasure.
we developed the technology to agitate, defoam, fill and mold so that voids are not mixed into the high viscosity materials such as sealant applied in the fuel tank.

*Sealant material is…
Sealant is a material used to maintain airtightness in the fuel tank and prevent sparks from lightning. Sealant is a critically demanding material because voids into the seal products can be leaded to aircraft accidents.
To address issues with conventional technology, we developed technology designed to remove air during each manufacturing and applying process. We developed (1) vacuum defoaming technology, (2) filling technology, and (3) a new type of cartridge and plunger.
These technologies contributed to quality stability and cost reductions as well as contribute to reduced costs for ancillary materials.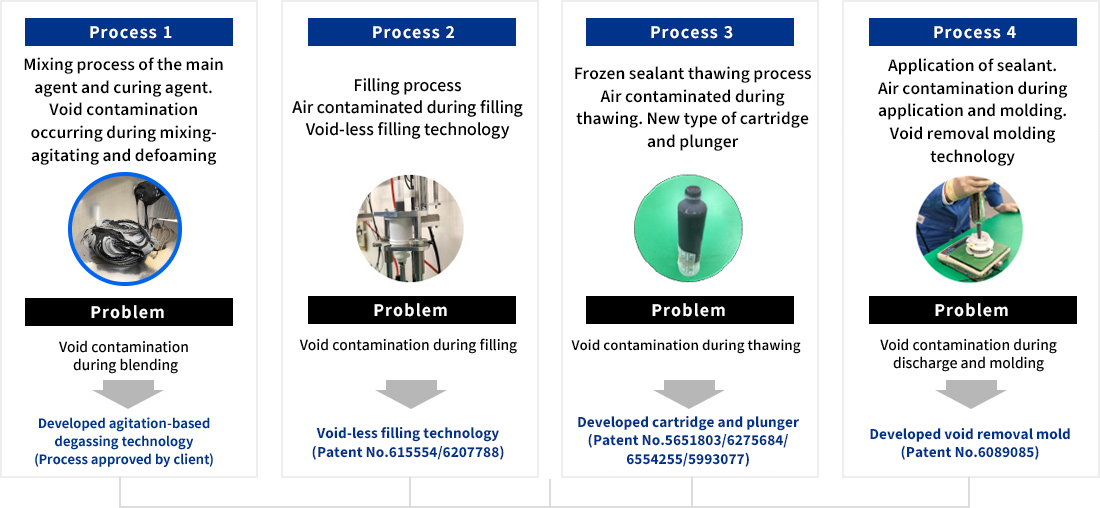 Developed proprietary technology to revolve each problem. Patents received.
Developed our own technology to solve each problem